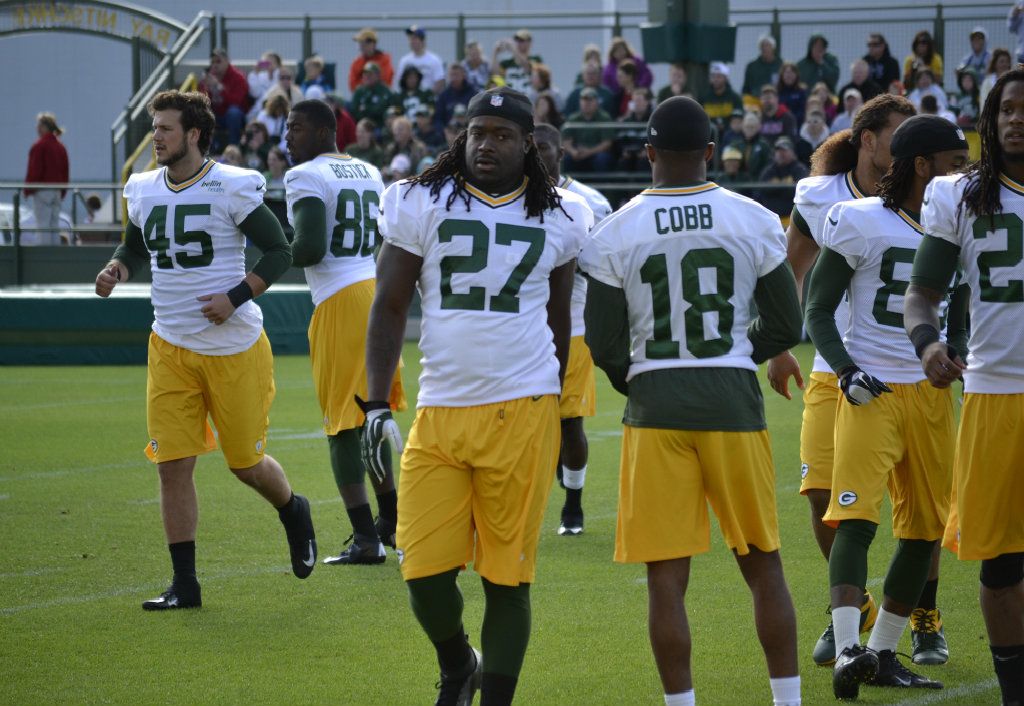 Packers, Lacy Could Follow Peterson Plan
POSTED BY: EDDIE LACY in NEWS
GREEN BAY, Wis. -- It's only his second NFL training camp, but the Green Bay Packers are taking a veteran approach with running back Eddie Lacy.
Maybe not quite the Adrian Peterson tactic, but close.
The reigning NFL offensive rookie of the year was held out of Saturday's preseason opener against the Tennessee Titans and indications are Lacy might not do much, if anything, in the remaining three exhibition games.
It's not an injury issue; the 24-year-old Lacy has taken on a full workload in practice. But just like the Minnesota Vikings do with Peterson, the Packers may be taking a similar approach with their workhorse running back when it comes to the preseason.
"It's not my goal for his workload to be very high in preseason games," Packers coach Mike McCarthy said Tuesday.
Peterson, 29, played one series in the third preseason game last summer, but before that had not carried the ball in the exhibition season since 2011.
Lacy said Tuesday he did not know if that was going to be the Packers' approach but doubted he would go into the regular-season opener at Seattle on Sept. 4 without any game action.
"That's definitely something else that you would have to ask the coaching staff," Lacy said. "But as far as me as a player, whatever opportunities I'm given, whether it's [playing in] preseason or held out until the first game -- which I highly doubt that -- whatever work I get will definitely help as far as getting timing and rhythm down."
If anything, Lacy's snaps in practice have increased. McCarthy wants to turn Lacy into a three-down back and practiced him extensively in that role during the early portion of camp.
But when it came time to suit up against the Titans, Lacy joined quarterback Aaron Rodgers in sweats on the sideline. James Starks started in place of Lacy and picked up where he left off last season, when he averaged 5.5 yards per carry as Lacy's primary backup. Starks rushed for 49 yards on just six carries, including a 20-yard touchdown, against the Titans.
Matt Flynn got the call in place of Rodgers, who is expected to start Saturday against the St. Louis Rams and again in the third preseason game against the Oakland Raiders but almost certainly will not play in the finale against the Kansas City Chiefs, one week before the opener.
"That's usually how it goes," McCarthy said of the preseason plan for Rodgers.
Questions about Lacy's durability have followed him since his days at Alabama. But his pounding style largely held up last season. He missed one full game and most of another because of a concussion early in the season and then missed half of another late-season game because of ankle injury. In 14 games, he rushed for a Packers' rookie record of 1,178 yards.
But given the his penchant for contact, it's worth wondering how long Lacy can last.
"That's kind of a tough question," Lacy said. "It doesn't matter if you're a power back or a speed back, as long as you're a running back, nobody knows how long you can play the game."
By | Rob Demovsky