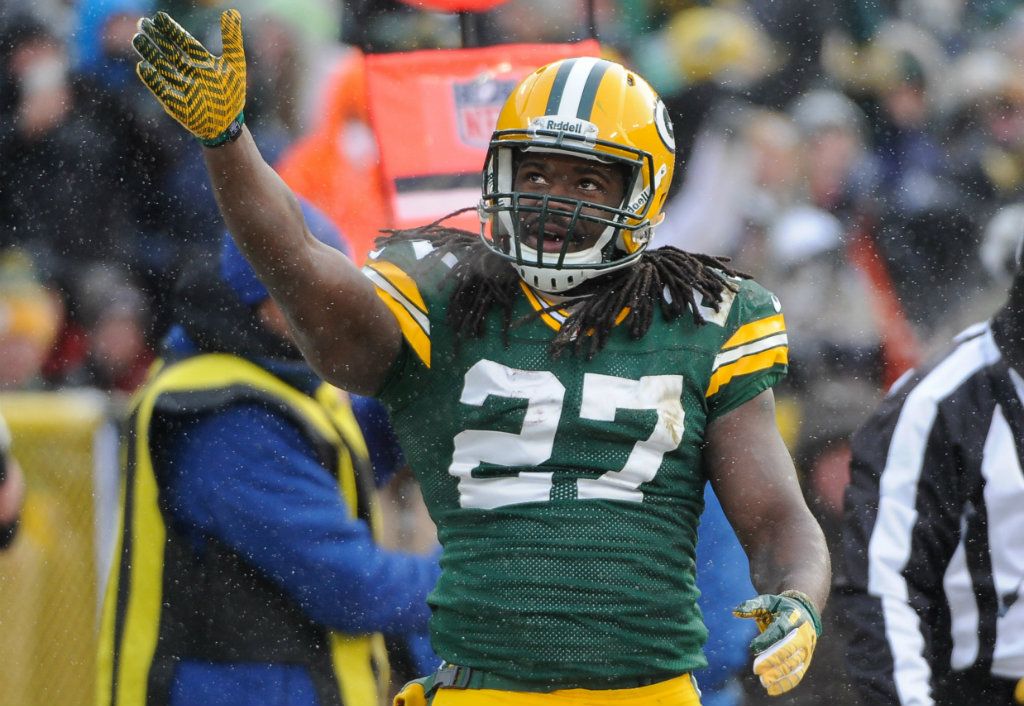 DOES EDDIE LACY BELONG IN THE SAME BREATH AS THE BIG-FOUR?
POSTED BY: EDDIE LACY in NEWS
Fantasy drafts across the country are in full swing, with a good share of them going down this weekend.

Seems like all the rave is that old strategy of drafting running backs early. While I'm not sold on that strategy completely, if you're drafting high in the order, making the right choice at RB in those first few picks is going to be crucial.
I think it has been well established across the board the Big-4 RB's of Fantasy Football this year are Jamaal Charles, Adrian Peterson, LeSean McCoy and Matt Forte - Not necessarily in that order.

I have the No. 12 pick in my draft so I'm not even thinking about those five guys cuz lord knows they will be gone by the time the draft hits the HOT corner.

Gotta say I was more than intrigued with the game and the news last week that the Green Bay Packers are going to be running some no huddle.

Hmmmm, greatest show on tundra on steroids, I like the sound of fantasy points going ding, ding across the board with some of these Packer guys.

More plays means more touches for Eddie Lacy and that my friends puts him into the conversation along with the Big-4.

I might even go so far as to say, Lacy by the end of the year, might be the best back in football.

SHUT YOUR MOUTH, really?

At 5-feet-11 and 230 pounds, this guy proved more than reliable as a rookie. While I'm not jumping for joy over his 4.1 yards per carry, the fact the Packers gave it to him 284 times his rookie season tells me the Pack know exactly what they have.

A workhorse back that is built tough and can catch the ball.

Let's look at some stats: (all from 2014)

Eddie Lacy - 1178 and 11 td's, 35 receptions for 257 yards and 0 td's - 1435 and 11 td's total
Jamaal Charles - 1287 and 12 td's, 693 yards receiving and 7 td's - 1980 and 19 td's
AP - (14 games) - 1266 and 10 td's, 171 and 1 td - 1443 and 11 td's
LeSean McCoy - 1607 yards and 9 td's, 539 and 2 td's - 2146 and 11 td's
Matt Forte - 1339 yards and 9 td's, 594 and 3 td's - 1933 yards and 12 td's

Holy cow those are some major fantasy point producers. Charles and McCoy were golden last season, but I think every guy on that list has some question marks coming into the season.

JC - Offensive line is a work in progress and people have a year of game film on him under Andy Reid.
LM - The addition of Darren Sproles means less touches for LeSean.
AP - Durability and his his heart into playing for another losing team in Minnesota
MF - Depends on what Jay Cutler does.

You start looking at those big four and each of them have reached their potential. We know what they are going to bring to the table as they are well established guys at their position.

What is Eddie Lacy going to do? What's his curve of improvement as he comes into his second full season?

I certainly don't see those numbers going south now that the Packer brass knows exactly what they have.

I'm not so sure Lacy's running numbers will go up significantly, maybe an extra 150 yards, but I think with his pass catching abilities he's going to have 50 receptions for 450 yards and a few td's this year.

So, what would that look like:

Rich Winter projections: 1328 yards rushing and 12 td's, 450 yards receiving and three td's
Total: 1778 and 15 td's

Your damn right he belongs in the conversation.

With that in mind, here are my new and improved RB rankings for fantasy football

1. JaMaal Charles
2. Eddie Lacy
3. Matt Forte
4. LeSean McCoy
5. Adrian Peterson (Norv is calling the plays, look for a bad year from AP)

Call me crazy, but I have a gut feeling on this one. I think the Packers are going to be really good on offense and I think they have a lot of second half leads.

When you have a lead in the second half, you run the ball.

Translation - Eddie Lacy will be money!
By | Rich Winter