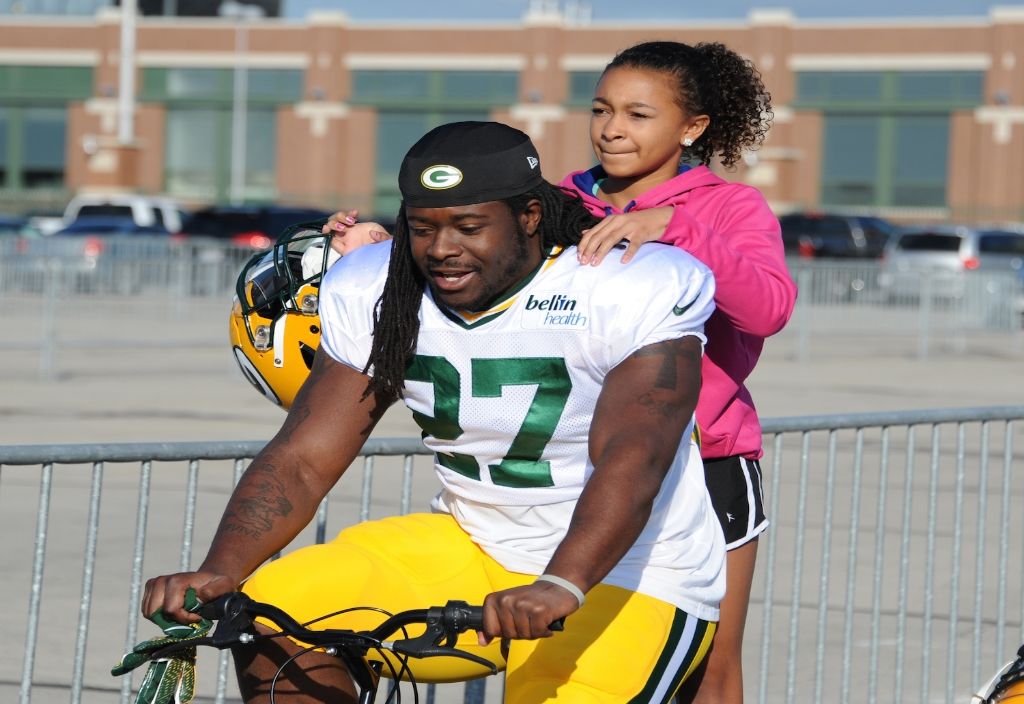 Home sweet home
POSTED BY: EDDIE LACY in NEWS
GREEN BAY – Her two new rocking chairs will take their rightful place on the front porch this weekend. You can hear the anticipation in her voice.
"My husband found them at the Ace Hardware," Wanda Lacy says in a joyful tone – which, during the course of an hour-long conversation Thursday evening, is how the vast majority of her sentences are delivered. "They're made out of cypress wood. Wide base, wide arms. And, of course, they're white – to correlate with the columns."
She is standing in the middle of her dream house, the one her son Eddie built for her this summer in Geismar, La., conducting a long-distance virtual tour of the modern-style, four-bedroom, three-bath, open-concept home – the one her son insisted on paying for despite her initial protestations, the one he's yet to actually set foot in.
That will change on Monday night, and then mother and son will sit in those rocking chairs, side-by-side, together.
They will look up at the stars – not at the cheap, glow-in-the-dark plastic ones she'd bought for him at the Baton Rouge Winn Dixie years ago, in hopes of making his bedroom in their cramped trailer feel a little more spacious, but the real, live, I-wish-I-may/I-wish-I-might thing.
They will talk – something her once-bubbly son didn't do much of during those dark, adolescent days when the idea of living in a house like this seemed unattainable, when he wondered how college recruiters were ever going to find him after Hurricane Katrina left them virtually homeless for several months.
They will laugh – oh, how she loves to hear that laugh of his, the same one his Green Bay Packers coaches and teammates love, the contagious, infectious guffaw that alerts everyone of his impending arrival as its echoes enter the room long before he does.
They will count their blessings – as they have always tried to do, even after one of the worst natural disasters in American history turned their lives upside-down.
And, of course, they will admire the columns – the three pristine, white stanchions that give their family home the stately appearance Wanda had long imagined.
"My absolute favorite," Wanda says as she walks from her bedroom to the front door. "I always wanted a home with columns in front. To me, it brings a sense of elegance. When you're a little girl watching television, the beautiful, elegant homes you saw always had columns.
"Eddie knew, throughout the years, I'd always mentioned columns. While he was at Alabama, I said, 'If I was ever able to build a home, I want columns.' He just looked at me and smiled. 'You and these columns.'"
When Eddie Lacy returns to New Orleans for Sunday's game at the Mercedes-Benz Superdome, he won't be thinking about Hurricane Katrina and devastation it brought – to his childhood home and to his childhood. He won't be visiting his old neighborhood in Gretna, just across the Mississippi River from the stadium; he won't be driving past the old trailer he'd reluctantly called home for the better part of seven years and he'd vowed to get out of; and he won't be making the 65-mile trek to Mom and Dad's new place, either.
Instead, he'll have dinner with his teammates at a French Quarter restaurant near the team's downtown hotel, and his family – he is the third of four children, with his baby sister Brittany now a junior at Southern University in Baton Rouge – will come to him for Sunday night's prime-time matchup with the Saints.
"The hurricane? Nah. That's going to be nowhere in my focus," says Lacy, who has played at the Superdome before – when the Crimson Tide faced LSU and fans branded him atraitor. "Is it something that still is engrained in my head, I guess you could say? Yeah, but that's not going to play a part at all.
"I have a game to focus on. And that's what I'm going to do."
After that game, he'll return to Green Bay on the team's charter plane, then turn around fly back home to Louisiana on Monday, as the players get their long-awaited bye week off.
At some point during his downtime, he figures, he'll think about how different his family's life is now, about what it means to him to have achieved his football dreams knowing how close he was to letting them slip away.
"My mom, she definitely saw the bigger picture," Eddie says. "I wasn't being the easiest kid to deal with then, but somehow she managed to still keep me on track and not give in. What she had envisioned for me was greater than what I saw in the current situation. Somehow, she was able to keep me focused, despite me being where I was at. She knew I didn't want to be there, but she also knew what it would take for me to get out of there – even though I didn't."
Before Hurricane Katrina made landfall on Aug. 29, 2005,  the Lacys did as they were told and evacuated. Little did they know that they'd never live in their house again, as Wanda and her siblings and their families all caravanned the 264 miles along I-10 to a hotel in Beaumont, Texas. They would end up being among the 1 million people displaced by the storm.
"Three or four days. That's what we were expecting," Wanda recalls. "We said, 'We'll make a mini-vacation out of it. Then we'll come back.' But it didn't happen like that.
"Once we see the devastation on the news, my husband and I looked at each other, and we knew it wasn't going to be a couple of days. We stayed in Texas a few more days, and then our funds started dwindling down."
So Wanda called her sister, Wendy, in Baton Rouge. Suddenly, five families were living in a three-bedroom house. Unable to return to work at the nursing home they'd both been at in Algiers, unsure how much damage had been done to their home and facing an uncertain future, the Lacys went into survival mode like many other displaced families.
They ate meals at the Florida Avenue Baptist Church. They rummaged through boxes of donated clothing at The Healing Place.
"It was a humbling experience, knowing how quickly you can have your life savings depleted. When you're used to working, and providing for your family, and now you're waiting for government assistance …" Wanda says, her voice trailing off. "The thing of it was, we didn't want the kids worrying. We really kept a poker face. We kept assuring them, 'It's going to be OK. This is only temporary. We will be OK.'"
Two weeks after the storm, Wanda and Eddie Sr. returned to their home. It was not OK.
"We didn't let the kids come with us the first time we went back," Wanda says. "We tried to describe it to them, but we couldn't. So we brought them, and made sure they had their little masks on.
"It wasn't so much that the house was ripped apart, but the foundation had shifted, there was mold everywhere. And the stench was horrible. Horrible. There was mildew all over your clothes, your shoes in your closet were filled with water. The kids' trophies, all mildewed. All the furniture, warped. The dining room set, warped. The china cabinet, warped."
And what the storm hadn't ruined, looters had stolen.
"DVD players. Amplifiers and speakers. The kids had these Crayola piggy banks – you know, the ones that are shaped like crayons? A blue one for Eddie, a red one for Brittany. They were filled to capacity – stolen," Wanda continues. "It felt like, even if we were going to be able to repair the home, I really couldn't live there. I felt violated."
Being 15 years old is hard enough.  Having your life suddenly thrown into utter disarray at such a transitional time was overwhelming to Eddie. Initially, hoping for normalcy, he and his football coach at Helen Cox High School in Jefferson Parish convinced Wanda to let him return to Gretna for the delayed school year and football season. But when Mom saw his grades were slipping, the experiment quickly ended.
"By the end of the year, young Mr. Lacy was back with his parents," Wanda says with a knowing laugh.
By then, Wanda, a nurse, and Eddie Sr., an operating room technician, had both found work, and they had signed up for the Share Your Home program and were placed with a couple in Dutchtown, outside Baton Rouge. Eventually, they had stabilized enough financially that they could afford the $800 a month rent for a trailer.
"He said, 'Mom, I don't like this,'" Wanda says, recalling Eddie's first reaction to the makeshift home. "He became very introverted, very quiet. His conversations were minimal."
As a mother, Wanda felt helpless.
"His room was small – like a closet. I asked him, 'Is there anything I can do to make it better?'" she says. "That's when he asked for the glow-in-the-dark stars, to put on the ceiling. I found some at the Winn Dixie, and I hung them up so when it was nightfall, it was like looking up at the stars.
"I was trying to get him to let out what he was feeling. I knew he was hurting. He had to leave all his friends he grew up with from when he was 4 or 5. That's devastating for any teenager."
When acting out, Eddie got into more mischief than actual trouble. In school, the self-styled comedian would make classmates crack up without uttering a word. He'd do poorly on a test because he didn't study; he'd incur Mom's wrath when he didn't come home on time.
"I had my share of rebellion, I guess you could say," Eddie says. "You live and you learn."
Football proved to be his salvation, his escape. The game had always come easily to him, from the day he started playing Pop Warner as a 6-year-old. Now, he needed it.
"I never knew what the big deal was. To me, it was, 'He looks so cute in his uniform,'" Wanda says. "Because I'm a mom. But I heard people say, 'I'm taping all his games because one day somebody's going to ask about it and I'll be able to show them clips of when he was 6 years old, running over people.' And I'd say, 'Sir, he's still in elementary school.'
"Now, he's in high school, and nobody's never heard of Dutchtown. He said, 'If I have a chance to play in college, how are they going to find me?' And I said, 'If you are as good as people say you are, they will find you.'"
And find him they did. He was a first-team all-state pick as a junior, and by his senior year, he was courted by all the football powerhouses – Tennessee, LSU, Oklahoma and Alabama. Crimson Tide coach Nick Saban came to the trailer to convince Eddie that Tuscaloosa was the place for him. Eddie agreed.
After three seasons at Alabama, he declared for the NFL Draft, and the Packers took him 61st overall. As a second-round pick, he got a four-year, $3.392 million contract that included an $847,208 signing bonus and is paying the NFL's reigning offensive rookie of the year base salaries of: $559,201 this season, $713,401 in 2015 and $867,602 in 2016.
And yet, Mom wanted him to save it all.
First, Aaron Rodgers bought land. Then he paid to build his parents a new house on it.
Randall Cobb bought his mother a new house this past offseason, playing his own version of Extreme Makeover: Home Edition and surprising her.
"It was probably the greatest feeling that you could have," Cobb says.
And then there's B.J. Raji, who bought two houses – one for his mother and one for his father, as they'd split when he was young. After living with his mother in Harlem, he'd gone to live with his father in the New York suburbs when he was 11 or 12. When he was a top-10 pick in the 2009 NFL Draft, his first priority was helping them.
"My dad was working two jobs, my mom was working two jobs," Raji explains. "I think it's every kid's dream to someday be able to help out their parents. For guys like Eddie and me, it's our way of telling them, 'We can't repay you for everything you've done, but this is what we can do to help you.'"
Wanda and Eddie Sr. closed on their new house on Aug. 22, while their son was busy with a preseason game against the Oakland Raiders at Lambeau Field. Wanda had tried to tell him to save his money and wait for his second NFL contract before making such an investment. She'd told him they would be just fine for another year or two in the cramped trailer, and she'd even refused to start house-hunting initially when Eddie began insisting that she do so.
"I wasn't looking for a home. I told him, I told his financial people, 'I want you to save your money, be smart with your money,'" Wanda says. "Finally he said, "Mom, it's getting to be a bit much. If you don't look for a house, I'm going to look for one for you.'"
Then she happened upon the new, just-breaking-ground subdivision on her way home from church one evening, not long after Eddie's rookie season had ended. When she toured the model, and saw the big white columns in front, she was sold.
"I came home, and Eddie was at the table eating crawfish with his friends," she says. "He came with me to look at it, and he said, 'Are you sure this is the one you want?' And I said, 'This is it. Look, it has the columns.'
"He just smiled."
And as excited as his mom is to sit with him on the front porch amid the columns, Eddie can't wait to see the place for himself. He proudly displays the collage of photos from the closing that he created on his iPhone with the PicFrame app that day, and his voice strikes the same joyful note his mother's had as she talked about her precious rocking chairs.
After everything Katrina took from him, he's taken it back.
"It's a great feeling, especially for me coming home," he says, smiling. "I'm happy, man, just knowing that they don't have to be cramped up in that little trailer no more. They have a lot more room. It's just positive vibes all around."
Source:
By Jason Wilde | espnwisconsin.com | October 23, 2014 
http://www.espnwisconsin.com/common/page.php?feed=2&id=16911&is_corp=1