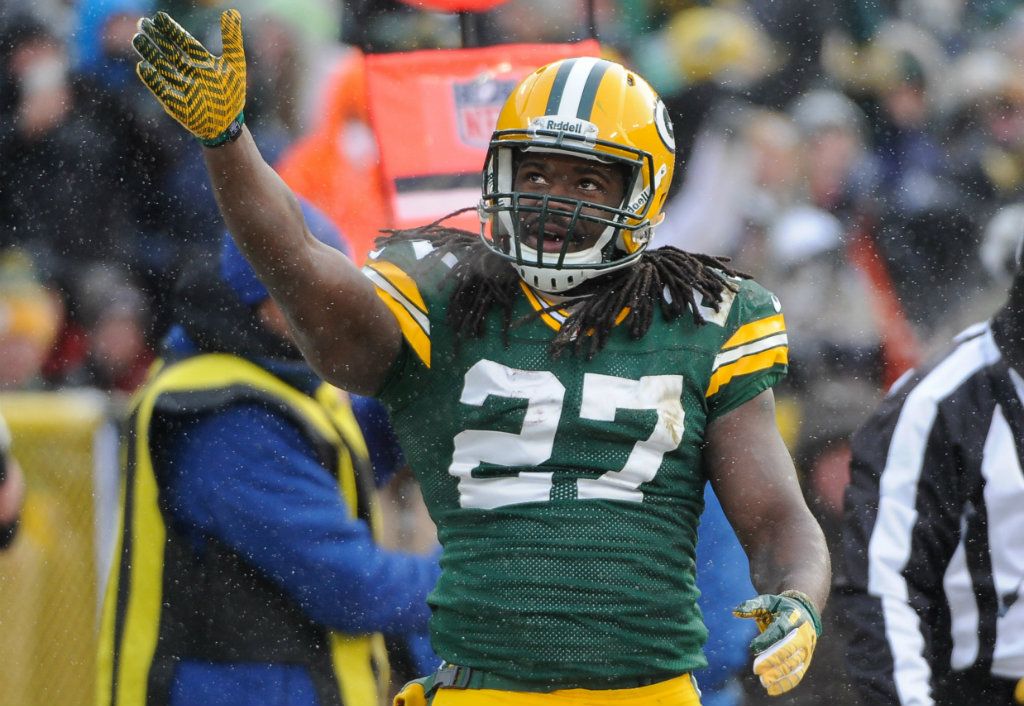 Eddie Lacy wants 'to have one of the biggest games of my life' Sunday night
POSTED BY: EDDIE LACY in NEWS
Green Bay Packers running back Eddie Lacy is looking forward to Sunday night's homecoming game.

"I'd like to have one of the biggest games of my life," Lacy said of the NFL contest in New Orleans against the Saints on NBC at 7:30 p.m.

Lacy is a New Orleans native.

"I could talk to some of my family members and friends who are Saints fans and tell them I did X, Y, Z against their team," Lacy told reporters gathered around his locker on Wednesday. "You know, just friendly stuff."

Lacy has played once in the Mercedes-Benz Superdome. He was Trent Richardson's backup when Alabama defeated LSU in the BCS national championship game to cap the 2011 season.

"They knew I was from Louisiana, and I was at a traitor school, as people in Louisiana would say," Lacy said. "So I got boos for that and a bunch of negative comments. But that's just a part of the game. Fans are going to say what fans say. At the end of the day, what I have to do takes place on the football field."

At the time of that game, Lacy's family no longer lived in New Orleans. They lost their house to Hurricane Katrina in 2005 and wound up living in a trailer in Geismar, about 20 miles from Baton Rouge. Lacy slept on the sofa. He still was sleeping on it while at home during the offseason.

In August, while Lacy was at training camp, his parents moved into a new house, finally relenting to their son's offers to get them out of the trailer.

"I was happy, man," Lacy told the Green Bay Press-Gazette, "just knowing that they don't have to be cramped up in that little trailer no more. They have a lot more room. It's just positive vibes all around. There's no reason for them to be like, 'Oh, we have to drive back to a trailer,' or 'Why are we still in a trailer?' It's more like, 'Coming home from work, at least I have a house and a comfortable bed that actually fits in a room, and we still have room to walk around and stuff like that.'"

Sunday night's game is a homecoming for Lacy beyond the traditional football sense. The Packers don't have a game next week, so Lacy will have time to visit his parents and see their new home for the first time. And it has four bedrooms.

"It's a great feeling, especially for me coming home," Lacy told the Milwaukee Journal Sentinel. "I don't have to worry about coming home staying in the trailer and sleeping on the sofa no more. I get to go home to a house -- air-conditioned, everything's working, sofa, my own bed, just a homey feeling now."

FOR MORE OF AL.COM'S COMPREHENSIVE COVERAGE OF THE NFL, GO TO OUR NFL PAGE

For Lacy to have one of his "biggest games," he'll likely need more carries than he's been getting this season. With backup James Starks nursing an ankle injury, it's possible Lacy could be in line for more work on Sunday night.

Lacy has 92 carries for 369 yards and four touchdowns this season. Last year on his way to the NFL Offensive Rookie of the Year Award, Lacy had 134 carries for 596 yards and four touchdowns through seven games, and in one of those games, he ran the ball just once because he sustained a concussion.

But the Packers have won four games in a row and come to New Orleans with a 5-2 record.

"As a football player, you want to score, you want to get 100 yards, you want to do everything that makes you look good," Lacy said. "I just want to be able to continue to contribute. That's pass blocking, getting out on the check-down, the whole nine yards. I might not have 100 yards. I might not even get 60. But the yards that I do have definitely will contribute and make sure we're in a great position to win the game, which is the ultimate goal."

A big game also would help Lacy in the postgame handshake with former Alabama teammate Mark Ingram, the Saints' starting running back.

"I'm pretty sure there's going to be some trash talking starting here pretty soon," Lacy said about Ingram on Wednesday.
Source:
By Mark Inabinett | al.com | October 26, 2014
http://www.al.com/sports/index.ssf/2014/10/eddie_lacy_wants_to_have_one_o.html