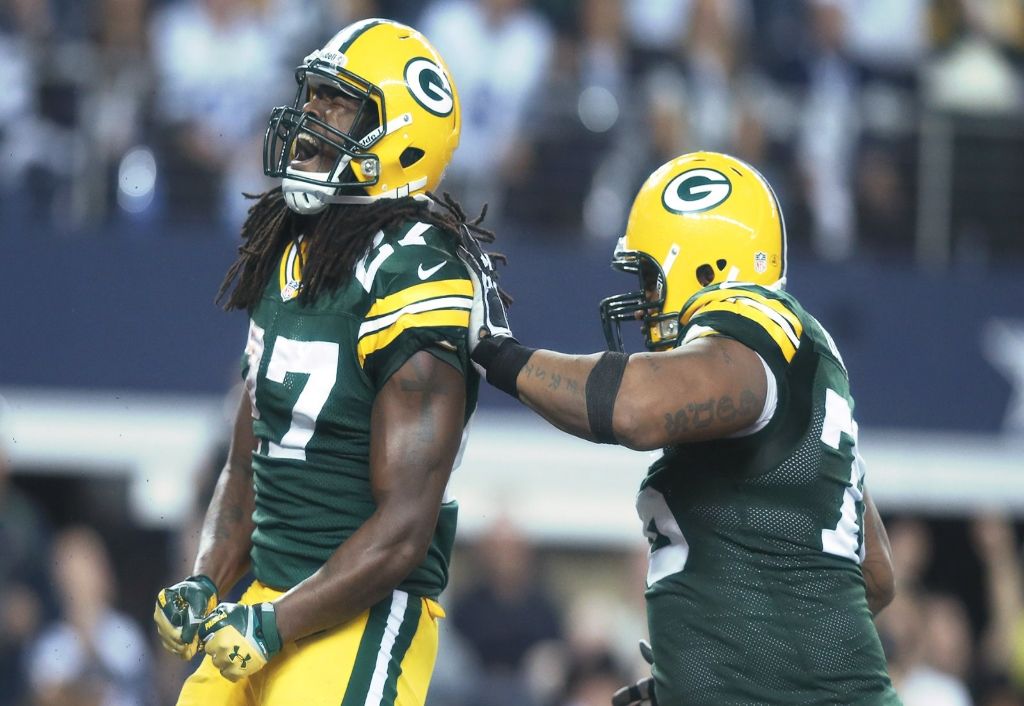 Eddie Lacy an excellent option for screen passes
POSTED BY: EDDIE LACY in NEWS
Green Bay — One Alabama teammate doesn't remember Eddie Lacy dropping a single pass in college. His running backs coach here in Green Bay? Sam Gash can count Lacy's drops — since individual workouts in April — on "one hand."

And this includes Gash's 10-yard lasers on the sideline each day of training camp.

"I've been able to catch my whole life," Lacy said. "I wasn't always big."

Now, he is (very) big which may become a (very) big problem for defensive backs on a play rarely seen all season.

The good ol' fashioned screen pass worked to perfection at New Orleans before the bye week with Lacy stampeding upfield for 67 yards. Sure, the Packers can ram their second-year back into the line of scrimmage through the winter months. But they also would be wise to capitalize on Lacy's other talents — hands, vision — in the open field on designed screens.

A staple under Mike Holmgren and Mike Sherman through the 1990s and early 2000s — with the likes of Edgar Bennett, Dorsey Levens and Ahman Green — the screen play could become a real weapon again with Lacy.


"He's a powerful man," offensive coordinator Tom Clements said. "When he gets out in space and has some blockers in front of him — even if he doesn't have any blockers in front of him — he's usually running against smaller defenders. So it's harder to bring him down."

To which fans are probably clamoring: Then why don't you run it more?

The answer is simple. Green Bay has been calling screen plays all season long. It's just that here in Green Bay, screens aren't all-or-nothing, sellout dump-offs to the back. Aaron Rodgers has other options downfield and typically uses those options.

When Lacy does get the call, he usually picks up his head of steam in time. Using his eyes to demonstrate, Gash says Lacy excels at knowing precisely when to transfer looking the ball in to looking upfield.

"He's got a great burst," Gash said. "He's got really good timing. He sets up blocks well. And he's slippery for a big guy. A guy may get a bean on him and hit him, but...people bounce off. His patience, his timing.

"He can catch a ball, anticipate, boom, coming around and not be to quick with it. He can time it up just perfect."

Many other backs, Gash added, panic during this split-second. They brace for contact. Much like his easygoing, cartoon-loving personality, Lacy doesn't.

Then, the fun begins. Players 50 pounds lighter try to tackle him.

"He's so big, you can't square up on him," center Corey Linsley said. "But he's so shifty. He's got the shakes, you know? The quicks to juke you. So as a DB, you're kind of sitting there like, what do you do? Even as a linebacker."

Lacy shook both off on his 67-yarder. At New Orleans, Lacy first broke two tackles off the catch — flicking away linebacker Curtis Lofton — and then gained the final 18 yards stiff-arming 200-pound Rafael Bush. Yes, Lacy's eyes got big on the play. He called it a "good-looking screen." Two blockers, two defenders, then you simply "see how far you can go."

Through the backfield split, Lacy has proven more graceful in the passing game than James Starks. He's on pace for 42 receptions for 418 yards.

The guy who calls himself "Moss" doesn't fight the ball. Watching Lacy at the JUGS machine before and after practice, Clements cites Lacy's strong hands, and how he catches it cleanly.

And back to college, former Alabama receiver Marquis Maze remembers Lacy's natural hand-eye coordination. Even though Nick Saban didn't use Lacy as a receiver often, everyone in Tuscaloosa knew Lacy had that ability.

"I've never seen him drop a pass at practice," Maze said, "ever thrown to him."

So there was Gash all summer, whistling fastballs to Lacy. Sometimes, Rodgers' passes come in hot — the non-wide receiver isn't ready for it. Gash wanted Lacy to play with his hands in front of his body.

"So with as hard as I throw the ball, there should be no reason for you to back up and catch it because you've got protection," Gash said. "The ball's not going to hurt you if it hits you. So just get guys to train their eyes, train their hand speed and hand placement."

The passing game still flows first through Jordy Nelson, Randall Cobb and Davante Adams. But if front fours keep bringing the heat, screens could become the perfect antidote.

Quarterbacks coach Alex Van Pelt knew Lacy had rare hands while watching Alabama film one day — he lined up split wide and caught a slant pass. No, McCarthy probably isn't scheming his own "Moss" this way. But Van Pelt says the Packers do practice their screen game six or seven times through a week. Each opponent requires a different screen package.

The key for the quarterback is negotiating the throw. With rushers in his face, throwing the screen takes acute technique. Twists can complicate matters.

The head coach, Van Pelt assures, is calling screen plays.

Using Lacy within these plays might be Green Bay's looming counterpunch to defenses.

"That's always an option for us," Van Pelt said. "You just have to call them at the right time and you have to have the defense expecting pass obviously and coming up the field with a good rush."

The running back will be ready.

Said Lacy, "I like the ball any way I can get it."

Source:
By Tyler Dunne | jsonline.com | November 7, 2014
http://www.jsonline.com/sports/packers/eddie-lacy-an-excellent-option-for-screen-passes-b99385555z1-281884301.html