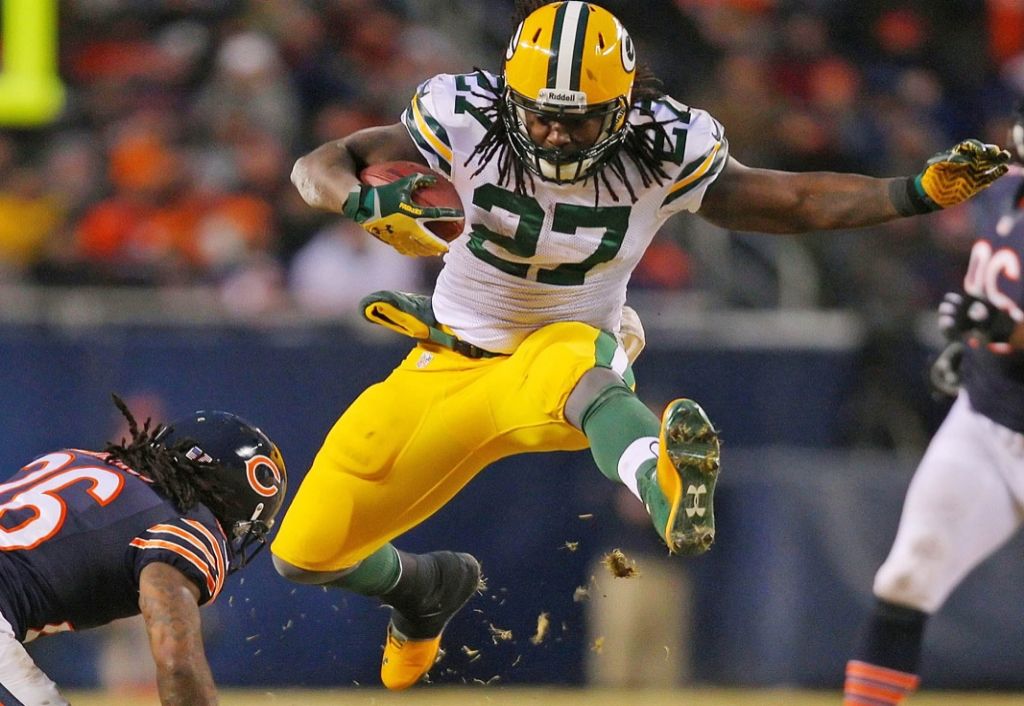 NFL: Opportunistic Lacy
POSTED BY: EDDIE LACY in NEWS
GREEN BAY, Wis. -- Eddie Lacy's stocky build is tailor-made to truck over defenders in the open field.
So it doesn't matter much whether the 5-foot-11, 230-pound Lacy gets his touches by catch or carry -- once the Green Bay Packers running back gets going, he's a load to bring down.
"It's all the same to me. Get the football and get to run around a little bit," Lacy said. "It doesn't matter how I get it, whether it's run or pass, it's just every opportunity make the most of it."
Lately, he's been doing his damage through the air.
Last week, Lacy turned a screen pass into a 56-yard touchdown, one of six scores for the Packers in the first half in a 55-14 rout of the Chicago Bears.
In Green Bay's previous game against New Orleans, Lacy had eight catches for 123 yards, including a 67-yard gain.
The Packers coaches have said they are using the screen of late just as much as they did earlier this season. Lacy has been targeted 15 times in the last two games, half his targets for the entire year.
Whatever the reason, it's working. The screen could be another useful weapon on Sunday against the Philadelphia Eagles, who boast an aggressive defense. Maybe a pass rusher will think twice about going hard after Aaron Rodgers if all the quarterback has to do is send a short toss to an open Lacy escorted by blockers.
"I think it's going to help the guys out up front. For the main part, someone on the pass rush gives us another way to make a big play," receiver Jordy Nelson said. "The more you can do on offense, the more effective you'll be, and the more effective the defense has to be on their heels."
With 24 catches for 277 yards through nine games, Lacy has already surpassed the 257 yards he gained on 35 receptions in 15 games in 2013.
In training camp, Lacy could often be found spending extra time catching balls. Coach Mike McCarthy said in the preseason that he was hoping to use all of his backs, including Lacy, for entire series instead of alternating by down or distance.
Lacy didn't spend much time catching passes at Alabama, where coach Nick Saban essentially just asked the running back to take the handoff and bulldoze over the defense.
"I don't know how good I was in the past. I'm just catching the ball," Lacy said.
But pass-catching wasn't the reason that Lacy was named the Offensive Rookie of the Year last season.
The second-round pick bulled his way for 1,178 yards and 11 touchdowns on 284 carries. He helped hold the Packers offense together while Rodgers was sidelined for much of the second half of the season with a left collarbone injury.
This season, Lacy has 478 yards on 119 carries with four scores. His season-high on the ground was Oct. 2 against Minnesota, when he ran for 105 yards on 13 attempts.
McCarthy has said the lower production is in part due to fewer opportunities in the Packers' quick-strike offense. Rodgers has been playing pitch-and-catch lately with top receivers Nelson and Randall Cobb.
But going to Lacy on short passes can be just as effective as a handoff. Add in his carries and catches, and Lacy has averaged 19 touches the last two weeks.
Lacy likes his chances especially after catching a screen.
"You know you might get pushed out of bounds if you go toward the sideline route, but it's in our favor whenever you catch the ball and there (are) two linemen against two defensive backs," Lacy said. "It's definitely in our favor."
Source:
By Associated Press | thonline.com | November 14, 2014
http://www.thonline.com/sports/other_sports/article_0fe7735e-d0f6-58ac-b9a5-b7eac3ece593.html